Musik Probe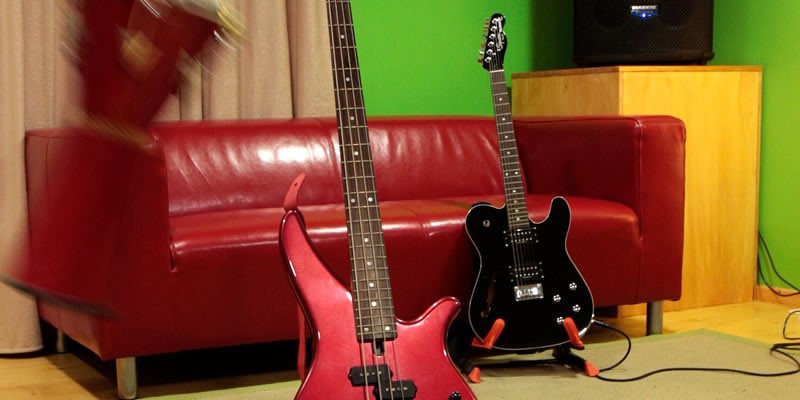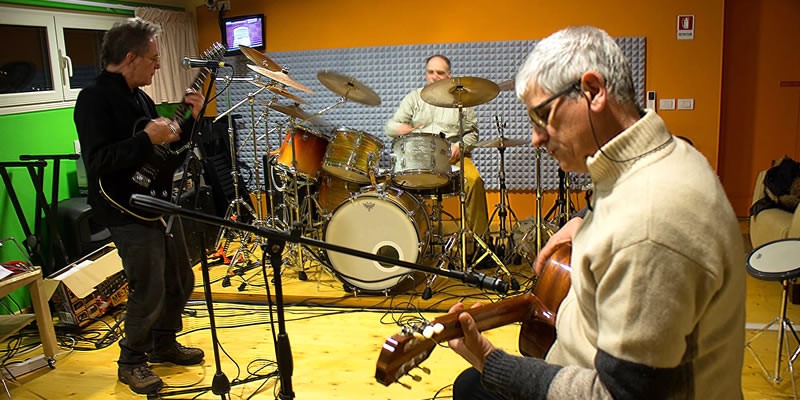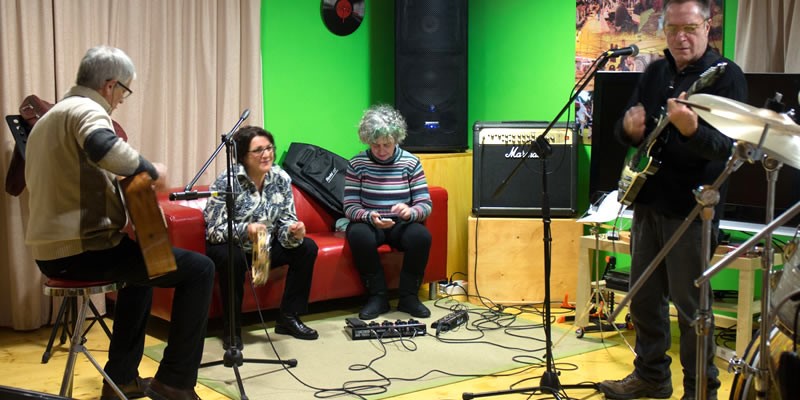 From Valley Life luglio 2010
"As we stroll happily through this special corner that precludes the excesses of modern life, we visit the new modern recording studio equipped with the most recent technology. Music has always been my life," explains Cesare. "I was playing drums when I was ten years old. The idea of a practice room with a recording studio came into being slowly and then took place with the restoration of the old sheep stable." The room is aptly named: La Stalla.
The walls of the two rooms are painted in shades of green and orange, ideal colours for composing or perfecting performances. Among the range of equipment are drums, a keyboard, a synthesizer, all the amplification, compressors, microphones, a mixer, a PC, a Mac, two video cameras and two monitors that are substitutes for the classic glass window. Available for bands, upon request, are the services of a skilled recording technician. "We offer complete accommodations," explains Cesare. "Groups can stay in the agriturismo and make use of the studio until the recording is complete. We are happy to have local bands who would like to record their demos: we have high quality equipment that is generally not available in the region." The splendid natural scenery in which the agriturismo is immersed invites reflection and relaxation by the pool, as well as enjoyment of numerous upgrades of the building, including the wi-fi system."
The instrumentation:
Ability to stay with B & B or half board
The rehearsal room heated
Wifi access
Mixer Behringher Eurodesk MX 800 24 canali
Monitor Yamaha HS80M

Compressors:
Behringher Composer Pro MDX 2200
Behringher Autocom Pro MDX 1400
Multieffetto Lexicon LXP 5

Scheda Audio M Audio Firewire 1814
iMac Quad Core 27": 2,66GHz 12 GB di memoria
Logic Pro 9
Cubasic
2 Casse Attive Mackie SR 1530 500 W
2 Casse Preamplificate FBT da 100 W dB 97
Amplificatore per chitarra Marschall AVT 100 w Valvestate 2000
Amplificatore per basso Trace Elliot 1215 300 w
Amplificatore per chitarra Behringher Ultratone da 90 w
Tastiera Yamaha CS2X

Microphones:
3 Shure SM 58
2 Shure SM 57
1 Shure PG 81
1 JTS GM X6
1 Samson Q3
1 Audio-Tecnica AT4050

Powerplay Pro XL 4 canali Behringher
Cuffie Sennheiser
Ultra- Di Pro 8 canali Behringher
Cavi di varie lunghezze
Stabilizzatore da 9 kw
Congas e percussioni varie
Last but not least my Ludwig 1967.
Then as you know you never stop to implement, update etc...
---
Regelmäßige & Probe Regeln
Herunterladen